Meet Don Higgins
On a frosty November morning back in 1979 a 9-point whitetail buck walked into Don Higgins life and forever changed it. When he squeezed the trigger on his grandpa's Remington 12-guage, the slug found it's mark and at the same time God lit a passionate fire in Don's heart for whitetails that just burns hotter with each passing season.
In the early 1990s Don and his wife Robin acquired his grandparents small farm and soon began working to turn the property into a whitetail hunters dream. Although there were many mistakes made and lessons learned the hard way in those early years, Don figured things out and today that property stands as the very best whitetail hunting property Don has ever hunted.

These habitat improvement efforts soon led to a new business venture as Don quit his job and started working as a conservation contractor. As such he has planted literally millions of trees and shrubs across the entire Midwest on various projects for both government agencies and private individuals. He has also planted over a thousand acres of warm-season native grasses and completed numerous other habitat improvement projects.
In 1996 Don's hunting success and whitetail knowledge led to him having his first magazine article published in North American Whitetail. He has remained a regular contributor to that magazine for more than 20 years and has also had articles published in nearly every other major deer hunting publication.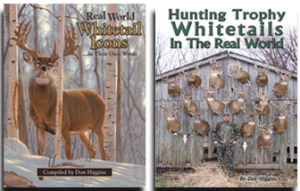 Don self-published his first whitetail book in 2005. Hunting Trophy Whitetails in the Real World instantly became a hit amongst avid deer hunters and sold out of its first printing in less than a year. In 2012 he published his second book, Real World Whitetail Icons, a limited-edition, full-color, hard-bound classic. Both books are still available on this website. 
Primarily because of his brutally-honest, humble and down-to-earth writing style, Don developed a following of avid deer hunters hungry to read and hear more. Soon requests started coming in from deer hunters to speak at various events and requesting that Don visit their properties and offer advice on making them the best they could be for growing, holding and harvesting mature bucks. Seeing the demand and opportunity, Don began speaking at seminars and started a whitetail consulting service that continues to grow in demand with each passing year.
You would think that all of these ventures would be enough to keep Don busy but they also opened his eyes to the need for a food-plot seed company that is focused on putting out quality products and educating the consumer rather than taking advantage of them. Partnering with good friend Kevin Boyer, the pair used their agricultural backgrounds to build Real World Wildlife Seed which started in business in 2008. The company later expanded its product line into the deer-nutrition arena and was renamed Real World Wildlife Products. Real World has become recognized by serious deer hunters for offering the highest quality products and doing business with honesty and integrity.
If you ask anyone that knows him, you will find that Don Higgins is not from the same mold as the typical deer hunting celebrity. His genuine love for the whitetail and his whitetail knowledge soon becomes obvious. His quiet country-boy demeanor doesn't lend itself well to the show-boat, look-at-me stage that the hunting industry has largely become, yet his whitetail hunting success cannot be denied and is rarely matched. Don routinely passes bucks that are bigger and older than many hunting celebrities have ever killed.
Dons integrity is clearly important to him and not for sale. He speaks (and writes) from the heart where brutal honesty pushes aside political correctness. Whether your interest is in a consulting visit to make your property the best it can be, a tree planting project on a CRP tract or you are simply looking for a good whitetail book to read, you will find that Don Higgins approaches them all with a passion and degree of respect that is often lacking in today's world.
Contact Don – don@higginsoutdoors.com