It is slowly starting to sink in now. After tagging my two target bucks on back-to-back hunts in mid-October the rarity of the accomplishment is slowly starting to hit home. For any bowhunter to kill two bucks of this caliber in the same hunting season would be a tremendous feat. To do it on back-to-back hunts is unbelievable. For those hunts to take place in mid-October is beyond imagination. Yet that is exactly what happened.
Successful deer hunting can be summed up as being in the right place at the right time. Over the years I have worked long and hard to put myself in the right place and at the right time. In recent years I have routinely found myself in position to tag the biggest buck residing in the areas I hunt. Even so, I was unprepared for what happened this season. On back-to-back hunts in Mid-October I killed the two biggest bucks that I know of in the areas I hunt. Both bucks have been described by others as "once in a lifetime trophies". My good friend Clint Harvey even summed it up like this, "Higgins, what you accomplished is more rare than a PGA golfer hitting back-to-back hole-in-ones during a tournament. It will never be duplicated."
For the past five years I have watched a buck I named Smokey grow into the kind of buck every hunter dreams of. I have passed shooting opportunities at this buck each season including last year when his shed antlers later taped out at over 180". I got to know Smokey very well and going into this season I felt confident that I could kill this buck as something or someone else didn't kill him first. I also felt that Smokey had a chance to add several inches of antler to his already impressive frame. On October 15 I got my chance and shot Smokey as good friend Kyle Heuerman of Team Radical Outdoors videotaped the entire hunt.
The highlight of the Smokey hunt was having my dad along for the recovery. As a kid my dad always took vacation time from his job to take me deer hunting even though he was not a deer hunter himself. He was there when I recovered my very first whitetail back in 1979 and it was a blessing to have him along when I walked up to Smokey for the first time and we each grabbed an antler on that 206 6/8" rack.
My dad took me hunting as a kid and was there to help me recover my first buck back in 1979 and was also there when I walked up and recovered Smokey this season. While he has never really been a deer hunter himself, he has been a huge reason for my success in the hunting industry. He taught me that whatever we did we would do it the right way. 
While my confidence in being able to kill Smokey was high, my other target buck, Trump, was a different story. Just two days after shooting Smokey I did two podcast interviews about the hunt and both times the interviewer asked me about my other target buck, Trump. I was sincerely honest when I told both that I thought my odds of even laying eyes on Trump were about 1%. Trump was a real world giant that got old and big by being smart. He covered a range of at least 3 miles mostly at night and without a discernible pattern. He probably never fed in a foodplot and I competed with a lot of other hunters on the same hunting properties to kill him. He was a real world buck in every sense of the word.
Four days after shooting Smokey I was ready to hit the woods again and naturally went into Trumps area as tagging him would be my primary focus for the remainder of the season. I am going to save the details of the hunt for another time but about 15 or 20 minutes before quitting time Trump walked out of a field of standing corn and into one of my shooting lanes. After a roller-coaster tracking job I walked up and grabbed the antlers I thought I would never touch. It was a surreal moment that my business partner and "brother-from-another-mother" Kevin Boyer captured on video. Kevin actually found Trump laying dead in a creek bed and was waiting with the video camera when I walked up.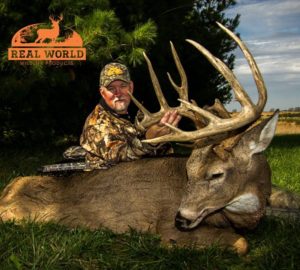 When I shot Trump on the very next hunt after shooting Smokey, I doubt if anyone was more surprised than I was.
It has now been three full weeks since I wrapped my second Illinois buck tag around Trumps 193 3/8" antlers and the magnitude of what happened this season is just now starting to sink in. Literally thousands of other deer hunters from across the country have offered their sincere congratulations for which I am most grateful. These kind words from not only close friends but also complete strangers as well as everyone in between have made this season even more memorable. I may or may not one day kill bucks bigger than the two I took during the 2017 season but deep down in my soul that whitetail fire still burns so for a while I will continue to try. Still, if my hunting career ended today I could not complain; not many deer hunters can say they shot 400" of antler on back-to-back hunts.
I have often advised others to "Dream big because Gods reality is so much bigger then we can even imagine". These words have come back home in a big way as I could never have dreamed of killing two bucks of this caliber in the same season … on back-to-back hunts … in Mid-October … but it really did happen.
Side Note – While most people responding to my unbelievable 2017 season have been 100% positive, a very small percentage have made false accusations. It is unfortunate that I feel the need to address this issue but I want to state unequivocally that both Smokey and Trump were 100% wild free-range bucks that never spent a minute of their lives behind a high fence. The hunts for both bucks were completely legal without exception. The entire hunt for Smokey was videotaped as was the tracking and recovery of Trump. Multiple people assisted on the recovery of both bucks and can thus validate the specific locations of each kill as well as other details. I will be sharing details of each hunt in future blog posts including video footage and trail camera photos of both bucks through the years as they matured. To see these periodically check my website www.higginsoutdoors.com or "Like" my facebook page "Don Higgins/Higgins Outdoors" where I will also post them.
My two books are available on this website. They make great Christmas gifts for the deer hunter on your list!