This time last year I was documenting my quest for a buck I named "Trump" through this blog and I had a lot of folks say that they enjoyed following along on that series of blog posts that spanned over a year. I ended up killing Trump as well as another buck I named Smokey. 2017 was easily my best season ever in over 40 years in the deer woods.
The 2018 hunting season is going to be a very unique one for me. I don't have a target buck yet which is very unusual and  I am also shifting my approach to hunting giant bucks a bit this season so part of this blog series will  also detail "an old dog trying to learn a new trick". So follow along on "The Chase 2018" as I detail what I do each step of the way to try to get another giant whitetail buck to walk past one of my stands.
Although my quest to tag my next buck never really ends, I am starting this blog today because I just came in from putting out my first trail cameras of the year. I typically start putting out my cameras around July 1 but with the rains coming in this evening and the fact that I am expanding my hunting territory and have more cameras than ever to put out, I decided to get an early start this year. I just love this time of year as bucks are growing new racks and I anxiously await the first photos of the bucks I know from past seasons as well as new bucks also.
I have a number of "good" bucks in my hunting areas that survived last season. None are giants however; these are bucks that would have scored 150"-170" last year. Will one of these bucks explode this summer to become a true giant for me to chase this fall? Stay tuned and we will both find out. (to see photos of some of these bucks, see my previous blog post titled "Putting 400" in the Rear-view Mirror")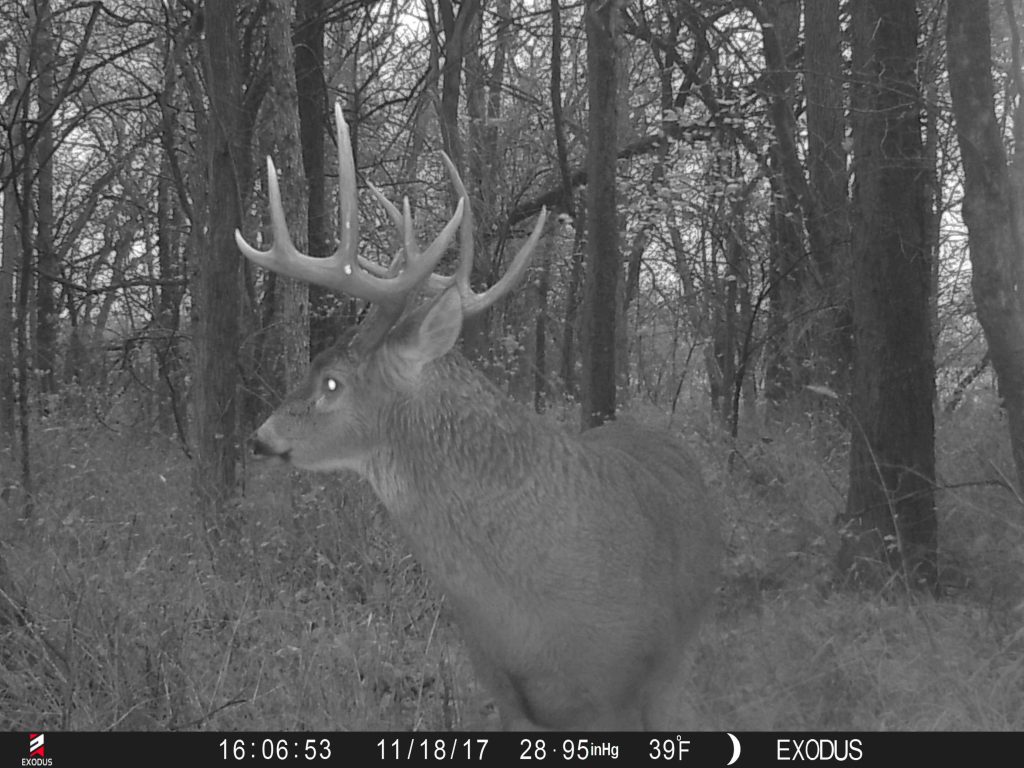 I have this bucks last two sets of shed antlers as well as a lot of video and trail camera history with him. Will he grow a giant rack this summer and become a buck I target when hunting season opens? Time will tell.
I mentioned that I am changing my approach to hunting giant bucks a little. In the past I would monitor the same properties year after year looking for the biggest bucks living there. While I was always looking for new properties to hunt, I was primarily hunting the same properties each year, maybe gaining a new property or two and maybe losing one or two.
This season I am going to be chasing specific bucks in new areas. One valuable lesson I have learned regarding truly giant whitetails is that you can do everything right as far as managing a property and it still may be decades between giants. Instead of biding my time waiting for a giant to show up where I hunt, I am taking my bow on the road and will try to track down the giant bucks I become aware of. This is going to be a new challenge for me. On some of the properties that I have hunted for many years, I absolutely know that I can kill any buck that lives there. Going after a mature giant on his home turf as an outsider is a different game.
I know of at least four bucks of interest that are living in areas and on properties I have never hunted. I don't have a single stand in place at the moment to hunt any of these bucks but they are the caliber of bucks that I live for. One would easily be the biggest wild whitetail I have ever layed eyes on. Another should approach or top 200". One I am just going on the word of a a good friend that I trust without question. And the last was bigger last season than any buck on the properties I have always hunted in the past.
I should have plenty of time for chasing giant bucks this fall now that I have devoted all of my "work" time to Real World Wildlife Products with some whitetail consulting work during the winter months. I certainly don't expect to top 2017 when I killed 206 6/8" and 193 3/8" bucks on back-to-back hunts in mid-October but that doesn't mean I won't have a lot of fun and hopefully learn a few things as I try to tag another giant or two this season.
I hope you will follow along with "The Chase 2018" and see what happens along the way. Hopefully this series will be as well-received as the series on "Chasing Trump" I wrote a year ago. Most of all, I hope you the reader realizes that killing giant whitetails is not something that one does in the fall; it is a year round quest that never ends.  Dream BIG, … Gods reality is bigger than anything you can ever imagine!
NOTE – To read each of these blogs as they are posted, be sure to like my facebook page "Don Higgins/Higgins Outdoors". I am at my facebook limit of 5000 "friends" and cannot accept more so liking this page is the best way to follow my posts.